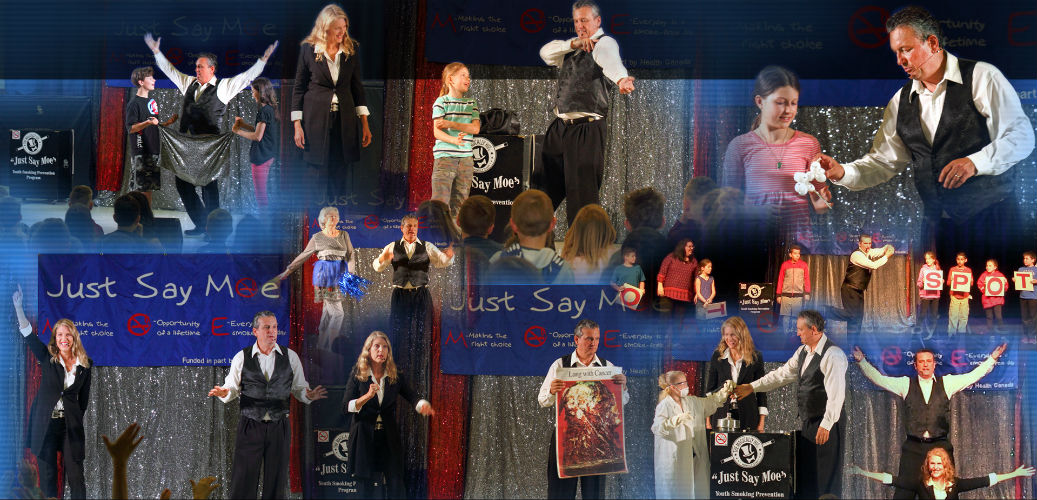 Just Say Moe
Youth Smoking and Vaping Prevention Presentation
GREAT NEWS!! The 'Just Say Moe' presentation has now reached over 500,000 students!
What is Just Say Moe?
Register
What is 'Just Say Moe'?
The 'Just Say Moe' youth smoking and vaping prevention presentation- is an interactive, powerful, educational, curriculum based presentation
Our system uses humour, fun and excitement to entertain the students while they learn the importance of saying 'no' to cigarettes, tobacco and vaping products. With the increase number of young people starting to use e-cigarettes and vaping products, the Just Say Moe is more important than ever.
Now is the time for ...

'JUST SAY MOE'
MOE is an acronym for:
M - Making the right choice
O - Opportunity of a lifetime
E - Every day is a smoke-free and vape-free day

Over 500,000 Students Reached!
That's right. To-date we have reached an impressive 500,000 students with the Just Say Moe message.
Register Now

Award winning, educational-entertainment based approach to smoking prevention
Specifically designed for grade 4 to 6, this highly effective, curriculum based presentation uses an interactive approach to engage the students, while being educated. A very powerful segment of the presentation is when, (Maxwell) a lung disease survivor describes his experience and his own account of what years of smoking have done to his lungs. Even though this presentation is powerful and deals with a very serious subject, the presenters have developed a unique, extraordinary way of relaying the message so that the students find the presentation exciting and extremely fun to watch. Due to the fast-pace, the music and the excitement, the students are fully engaged and have a complete 'buy in' to hearing and retaining this very important health message.
It is a 'win-win' situation, the students learning a valuable message while having the time of their lives.
---
Contact Us
I am so happy that my daughter saw the Just Say Moe show. She came home so excited and so full of knowledge about smoking but especially about vaping. I see the kids vaping all over and I was very...

Jessica Young, parent Windsor ON.

I would have no reservations in recommending them to any school. Their message was powerful and effective

R.G. Kayes - Principal, New Liskheard Public School

The students came away convinced that never starting is the best way to avoid the smoking habit. I was pleased that the message reinforced the teaching of our school community.

Ray Hendriks, Principal - Rhema Christian School Peterborough

They were extremely entertaining while getting their message across, and they had this large audience firmly in the palm of their hands

Patricia Murphy, Vice-Principal - W. Earle Miller Public School Timmins

We have had many events held in our school over the years but the common consensus was that this was one of the very best ever

Mrs. Theresa Riley - Wilberforce Public School