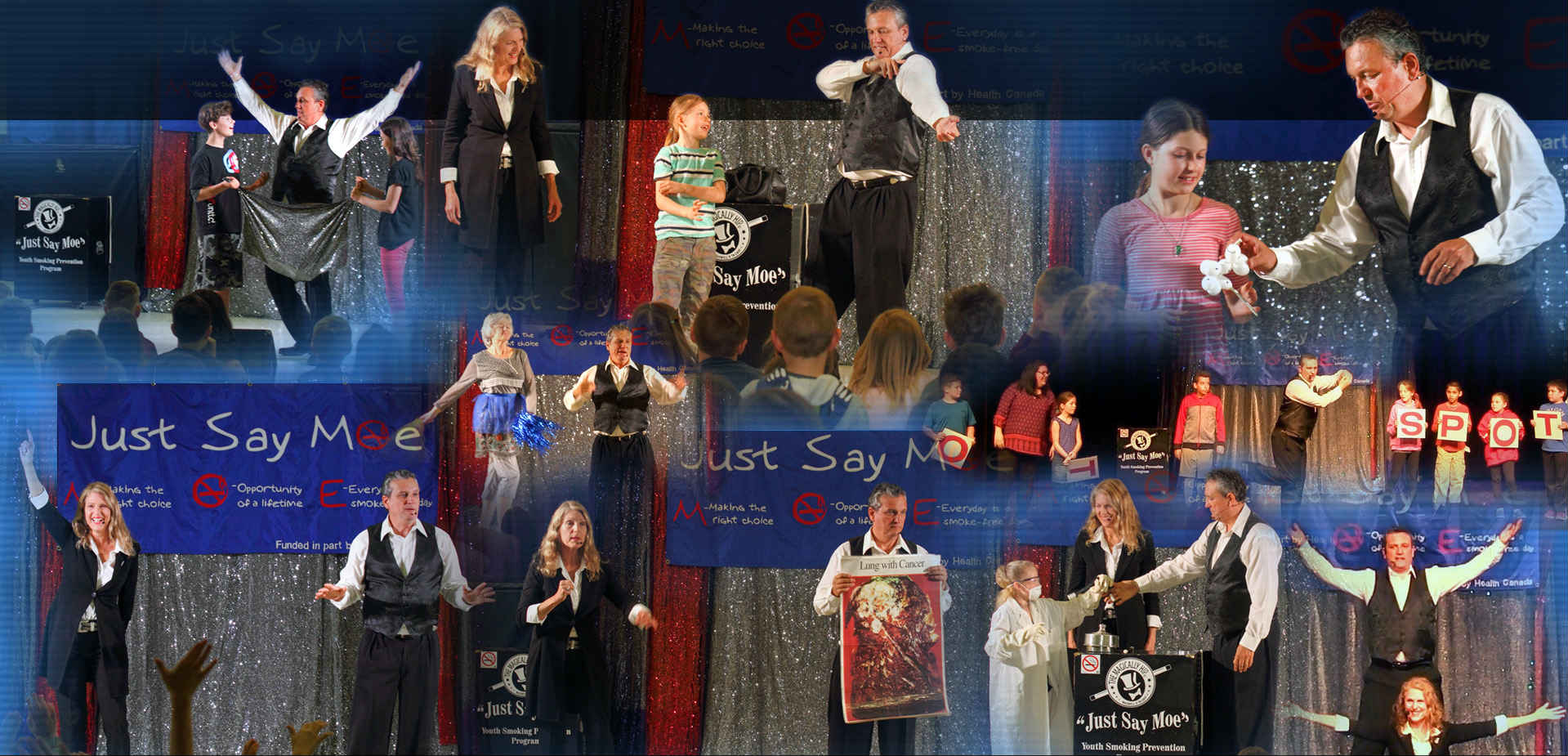 Maxwell and Ta-Dah! Who we are.
The presenters are known as Maxwell and Ta-dah! Of The Magically Hip. After Maxwell developed lung disease in 1996, he realized the need to educate others on the harmful effects of using tobacco products. In the hospital, Maxwell started to create the 'Just Say Moe' program and vowed if he made it home, he would dedicate part of his life to educating young people on the harmful effect of tobacco products.
Once released from the hospital, Maxwell and his wife, Ta-dah!, gathered information and statistics from health officials, schools and Health Canada to create the "Just Say Moe" presentation. Through their research, Maxwell and Ta-dah! Learned that 20 percent of children will start to smoke cigarettes or use a tobacco product between the age of 9 and 12. The result is a dramatic increase in the number of young people now affected by smoking-related illness, such as cancer, heart disease and degenerative lung conditions.They also realized that children and adults alike retain information, and act on it, when educated in an entertaining and engaging manner. This was the trickiest part, no pun intended. To make this program successful, they would need to make the presentation fun and exciting to watch while driving home the non-smoking message. They realized that they could use their talents as magicians for the entertainment portion of the show.With the combination of magic, music, true life experiences, and hard hitting facts, the 'Just Say Moe' program was created. To-date over 500,000 students now know how to 'Just Say Moe'.
M - Making the right choice.

O - Opportunity of a lifetime.

E - Everyday is a smoke & vape free day!

Maxwell and Ta-dah! Would like to thank all those who helped make the presentation a huge success. Thank-you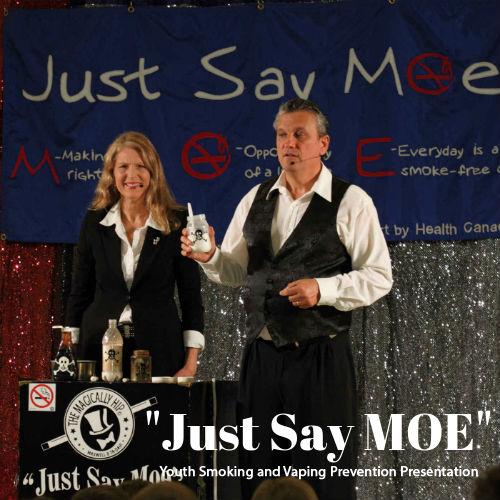 I am so happy that my daughter saw the Just Say Moe show. She came home so excited and so full of knowledge about smoking but especially about vaping. I see the kids vaping all over and I was very...

Jessica Young, parent Windsor ON.

I would have no reservations in recommending them to any school. Their message was powerful and effective

R.G. Kayes - Principal, New Liskheard Public School

The students came away convinced that never starting is the best way to avoid the smoking habit. I was pleased that the message reinforced the teaching of our school community.

Ray Hendriks, Principal - Rhema Christian School Peterborough

They were extremely entertaining while getting their message across, and they had this large audience firmly in the palm of their hands

Patricia Murphy, Vice-Principal - W. Earle Miller Public School Timmins

We have had many events held in our school over the years but the common consensus was that this was one of the very best ever

Mrs. Theresa Riley - Wilberforce Public School