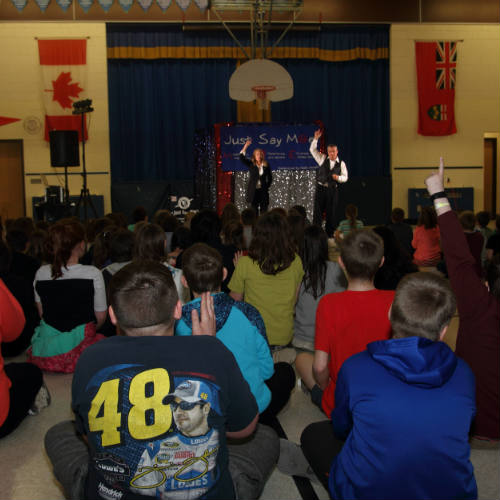 The "Just Say Moe" youth smoking and vaping prevention presentation- is an interactive, powerful, education, a curriculum-based presentation
that uses humour, fun and excitement to entertain the students while they learn the importance of saying 'no' to cigarettes, tobacco, and vaping products. With the increased number of young people starting to use e-cigarettes and vaping products, the Just Say Moe is more important than ever,
Now is the time for...
'JUST SAY MOE'
MOE is an acronym for:

M - Making the right choice
O - Opportunity of a lifetime
E - Every day is a smoke-free and vape-free day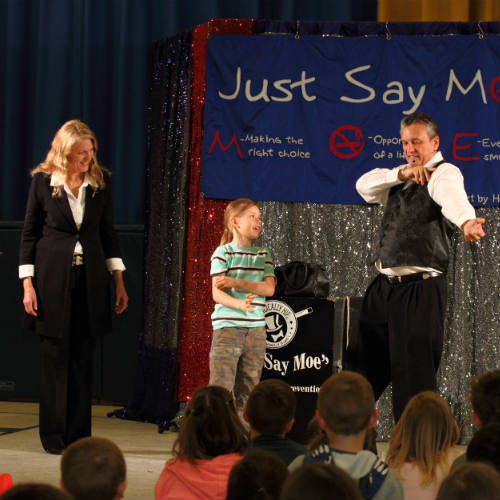 Specifically designed for grade 4 to 6,
this highly effective, curriculum-based presentation uses an interactive approach to engage the students while being educated. A very powerful segment of the presentation is when (Maxwell) a lung disease survivor describes his experience and his own account of what years of smoking have done to his lungs. Even though this presentation is powerful and deals with a very serious subject, the presenters have developed a unique, extraordinary way of relaying the message so that the students find the presentation exciting and extremely fun to watch. Due to the fast-pace, the music, and the excitement, the students are fully engaged and have a complete 'buy-in' to hearing and retaining this very important health message.
It is a 'win-win' situation, the students learn a valuable message will have the time of their lives.
Over 500,000 students have benefited from this presentation across Canada
Won Acclaim from Educators, parents and health organizations across Canada
The Effect of this program reaches beyond students, often carried home to parents.
Also supported by City Police VIP Programs, OPP Police DARE Programs, and numerous School Parent Council Committees
Educational-Entertainment based approach
Students from Eastern Ontario to Vancouver B.C have experienced our presentation
Previously funded by Health Canada
Supported by Ontario Tobacco Network, Healthy at Heart, various Health Units and Tobacco-free Coalitions across Ontario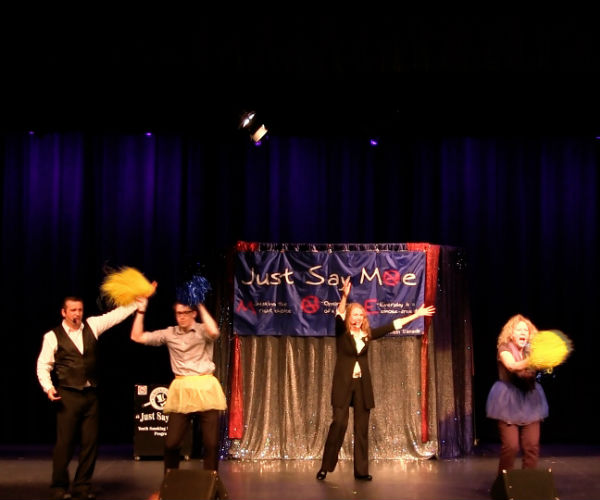 Pom Pom Hall of Fame!
A special thank-you to all the Teachers, Police Officers, Cadets and parents who have been Pom-Pom People Thanks for making the presentation so much fun for the students and for having great team spirit.
The best essay writing service reviews are transparent. They include all the necessary information, including guarantees. In case a company doesn't offer these guarantees, it is hard to be held liable for the lack of quality of its services. They should also provide a guarantee,
check out essay service reviews here
which will help protect you against fraudulent companies. You need to find out if they have a refund policy for any service you might decide to use. However, if the company doesn't, you can expect to be cheated out of your money.